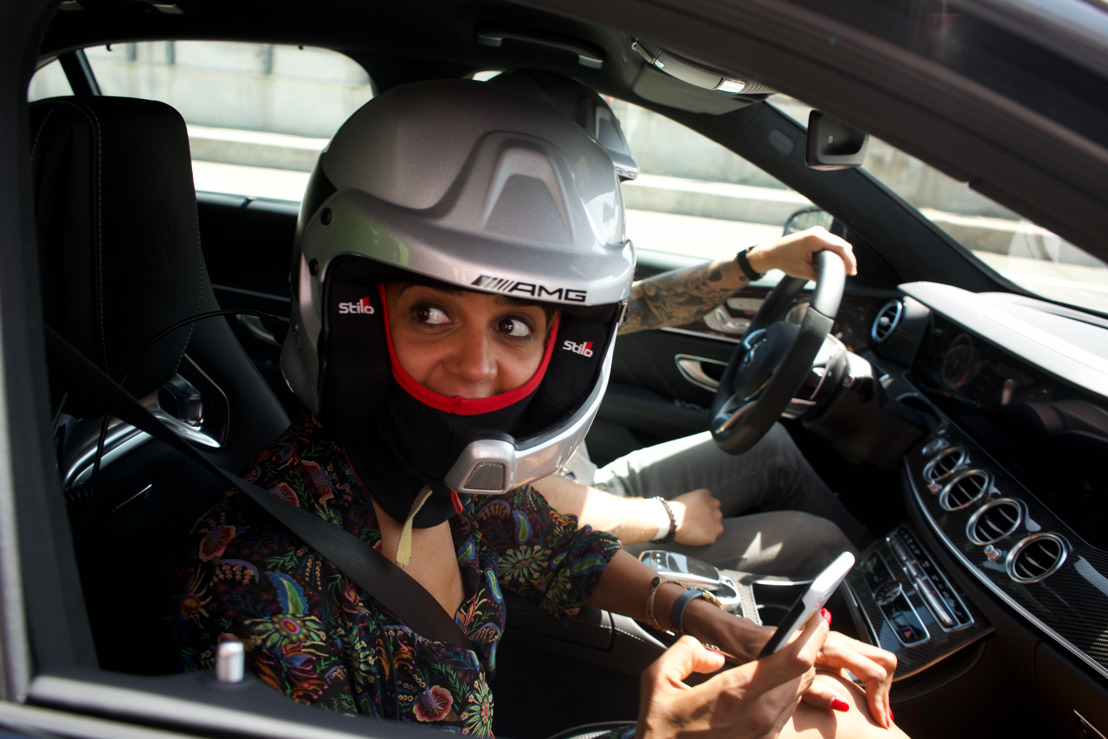 Tatyana Beloy gooit alle remmen los
Mercedes-Benz ambassadrice kruipt in de huid van een racepiloot
Woensdag 7 juni 2017 — Tijdens de 'AMG Driving Experience' eind mei werd een groepje bekende Belgische bloggers, waaronder Mercedes-Benz ambassadrice Tatyana Beloy, ondergedompeld in de wondere wereld van roffelende pk's en klappende uitlaten. Speciaal voor de 50ste verjaardag van Mercedes-AMG kreeg de actrice en TV-presentatrice zelfs de kans om onder begeleiding van een professioneel racepiloot de E63s AMG en de AMG GT-R te temmen op het circuit van Zolder. Hoezo, autoracen enkel voor mannen?
Samen met de groep bloggers testte Tatyana het volledige AMG gamma uit. De grenzen van de iconische G-Klasse werden op technisch en onverhard terrein verkend, gevolgd door een rit op de openbare weg met het complete Mercedes-AMG gamma. In de namiddag werden de reflexen getest tijdens een behendigheidsproef met de kleinere en wendbare A45 AMG en C63s Coupé AMG, om af te sluiten in stijl met een kennismaking op het circuit met de E63s AMG en de AMG GT-R.

"Het AMG-gamma bracht de angsthaas in me naar boven, want het ging allemaal wel héél erg snel. Ik wist eerst niet of ik het zou durven, maar als ik er op terugblik heb ik een ontzettend fijne dag beleefd", aldus Tatyana Beloy.

Via deze link vind je alle beelden terug van Tatyana Beloy als 'pitspoes' ;-) :
http://mercedes-smart.globalimage.be/media
Geef me gerust een seintje als je meer info nodig hebt!

Wil je graag een testrit doen in kader van een (reis)reportage of een interview met iemand bij Mercedes geef me dan gerust een seintje! Heb je een andere idee voor een samenwerking zoals een wedstrijd of een fashion fotoshoot, hoor ik het ook graag.
Groetjes,

Elke

Tatyana Beloy gooit alle remmen los
Contacteer ons
Elke Hadermann
PR account manager
Christophe Vloebergh
Press relations manager Mercedes-Benz cars
Mercedes-Benz Belgium Luxembourg
Christophe Vloebergh
Press relations manager Mercedes-Benz cars
Mercedes-Benz Belgium Luxembourg