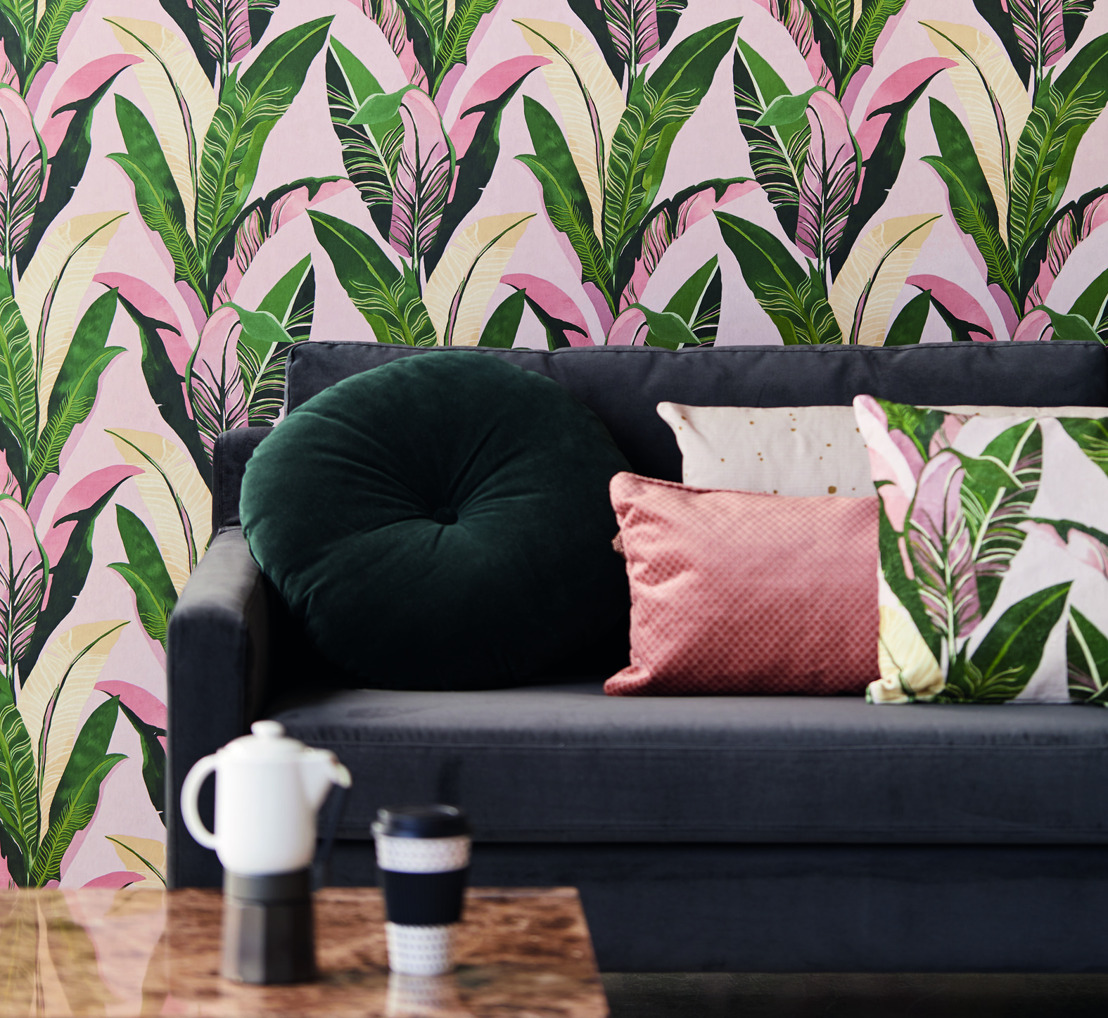 Behangpapiermerk Eijffinger versiert de muren met Vivid
Haal het hele jaar de lente in huis!
Woensdag 7 februari 2018 — Wuivende palmen, frisse bananenbladeren, dromerige spatjes of een naïef geknipt bloemenveld. Vivid is een wereldse collectie die modisch, innemend en speels is en soms een tikje rebels.

Matte, zachte kleuren en verrassende kleurcombinaties, van naturel, mauve, blush en steen-roze tot teal (soort van blauwgroen), salie, oker, diep donkerblauw en zwart. Subtiel gelaagd met een verfijnde papierstructuur. Uni's (eenkleurig behangpapier) met zichtbare verfstreken en handgeschilderde wallpowers om bij weg te dromen.

Met Vivid kan je jouw persoonlijkheid aan de wereld tonen. Speel dus naar hartenlust met alle dessins. Combineer en creëer met Vivid jouw unieke stijl.
Stem nu ook je behang en kussens perfect op elkaar af! Samen met het Nederlandse woon- en modeaccessoire merk Imbarro heeft Eijffinger namelijk 8 kussens met dessins uit Vivid ontwikkeld. Een betere combi tussen behang en kussens vind je niet!

LET OP: De collectie Vivid ligt vanaf 9 februari 2018 in de winkel. Het eerder naar buiten brengen van dit beeldmateriaal is niet toegestaan zonder toestemming van Eijffinger. De kussens zijn vanaf 19 maart 2018 via Imbarro verkrijgbaar.
HR beelden van deze Vivid collectie (zowel het behang als de kussens) kan je hier bekijken en downloaden: https://eijffinger.globalimage.be/media

Als je meer informatie nodig hebt, geef me dan gerust een seintje. Laat me ook zeker iets weten als je behangpapier nodig hebt voor een productie (fotoshoot beauty- of modespecial, decor tv-programma,..) of je hebt een ander leuk voorstel voor een samenwerking.
Groetjes,
Elke
Contacteer ons
Elke Hadermann
PR account manager